Vietnam Moving Wall
OCT 16 Thursday Wall arrives excorted by American Legion Riders.
OCT 18 Saturday Offical Welcoming Ceremony 11:00 AM
October 20 MondayClosing Ceremony 12 noon (tenative)
Courthouse Park 210 W. Yosemite Ave, Madera
Sponsored by Madera Post 1891 Commander Alan Hansen
Contact Norm Allinder 209-534-6252 Looking for honor guards for the wall during stary.
For many of us in the leadership of the Veterans of Foreign Wars, this was our war, our memory, our symbol of service and rememberance. I have visited the moving wall once, I saw the name of friends. Once was enough but now I will go again. I will not see the name but a face, a smile, a memory that has not faded. Many names I do not know, our paths crossed briefly in a far away place and time, then they were gone forever. The last time I visitedthe wall, I was with a friend that served in the same company, we told stories and remembered our Company. This time I brave the wall alone, I go alone, no companion can replace the ones thatI served with me.
I will miss the Welcoing Ceremony, I hope many of you will attend and represent the Veterans of Foreign Wars of the United States.
Make a Difference.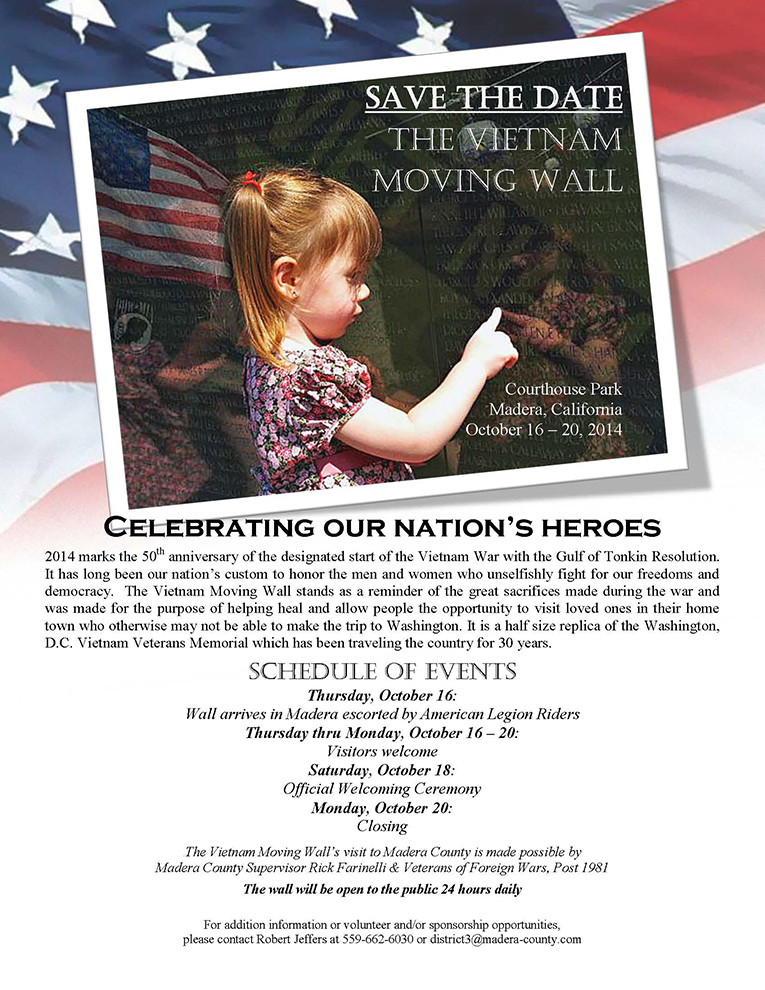 Download PDF:
http://www.vvacalsc.com/files/moving_wall_madera.pdf